PROFESSIONAL TRAINING PROGRAM
Professional Training Program aims to prepare ballet and contemporary dancers from 10 to 25 years, offering students all the tools necessary to enter the job world.
Acces to the program happens only through audition and a subsequent motivational interview.
The educational program is divided into eight academic levels, diversified between male and female classes, in which, in addition to the study of dance classes, students follow theoretical seminars aimed to the cultural growth of the dancer.
During the program the student is followed in the gradual insertion in the job world through preparation for auditions, competitions in Italy and abroad and training internships with known companies. Eight level students will also be able to access, after exceeding an audition, a training period at Balletto di Siena and the Recognized courses promoted by Region Tuscany.
Program ends with the student's presentation to the American Ballet Theater® National Training Curriculum® final exam.
Ballet History
Contemporary Dance History
Glossary
Music
Anatomy
Movement's Biomechanics
Functional Anatomy
Psychology
Nutrition
Theatrical Mechanics
Aesthetics
Ballet Technique
Pointe Technique
Male Technique
Repertoire
Pas de deux
Contemporary Dance Technique
Contact Improvisation
Choreographic Laboratory
Scenic Movement
Character Dances
Flamenco
Floorbarre
Fisiotecnica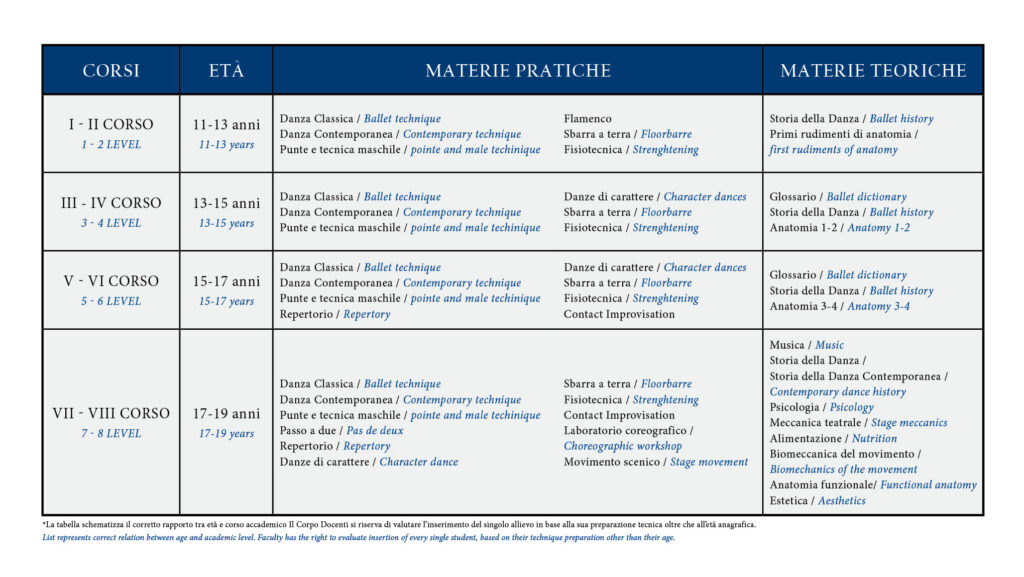 The students of the program are followed in theri training growth also from the postural
side, by doctors, qualified professionals, physiotherapists,
dieticians and psychologists to universally help their psychosomatic development.
Inside Aequilibria Postural Center,
students have at their disposal an available staff composed
by certified athletic trainers, masseurs and instructors
Gyrotonic®, Gyrokinesis® and Dancer's Pilates, according to individual needs.
Ateneo della Danza, Training Agency accredited by the Region Tuscany, promotes courses recognized at European level, to help students find the right place in the dance world.
PROFESSIONAL DANCER
Responsible for the conception, execution and interpretation of choreographies in
ballet and performances
DANCE TEACHER
Technician to program and conduct dance classes
and management of associative structures.
LIGHT
DESIGNERS
Lighting technician of theatrical performances and live events.
MANAGEMENT
OF THE SHOW
Marketing, planning, preparation and event organization. Administration and paperwork management.
DIRECTOR
OF STAGE
Responsible for coordinating the artists, the machinist movements and the
stage activity.
DESIGNER
Responsible for the conception / reconstruction of theatrical scenes.
COSTUME DESIGNER
Technical of study, research and design of costumes' activities.